Muse of the Month #6 - Alessandro Palazzi
May 20, 2022 08:00 PM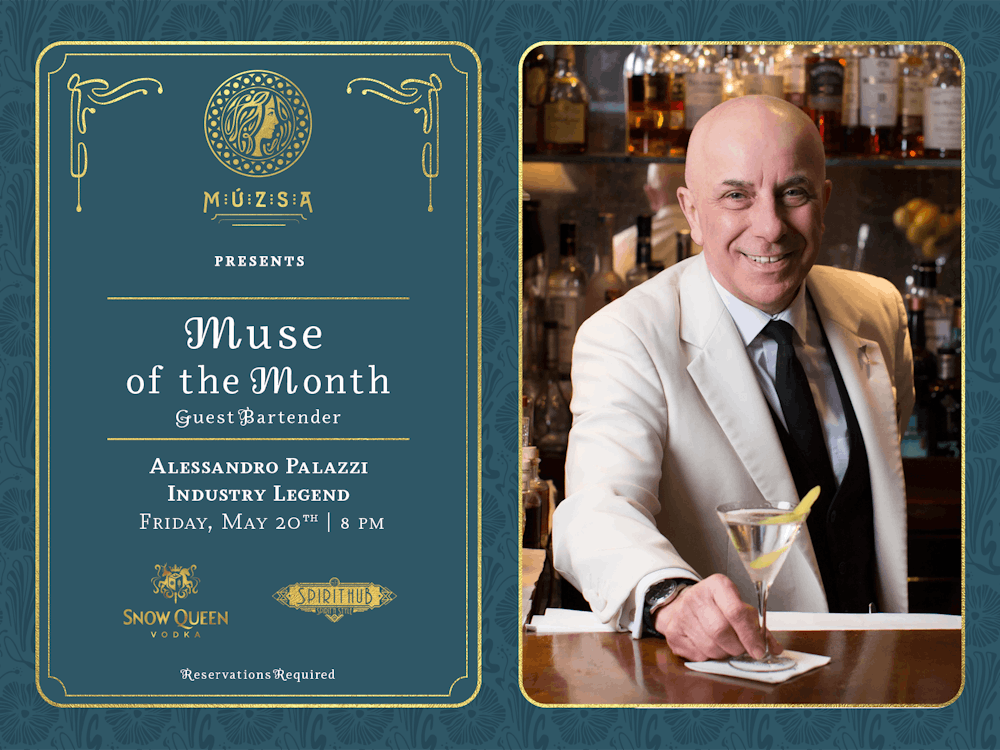 𝗠𝘂́𝘇𝘀𝗮
𝗽𝗿𝗲𝘀𝗲𝗻𝘁𝘀
𝗠𝗨𝗦𝗘 𝗼𝗳 𝘁𝗵𝗲 𝗠𝗼𝗻𝘁𝗵
"Shaken, not stirred." - James Bond
Are you intrigued by the famous drink of Britain's most loved secret agent? Join us for our sixth "Muse of the Month" event in the series where the focus is on the simple, yet elegant drink: the Martini.
Be part of a historic cocktail journey and meet Alessandro Palazzi, an industry legend who has been an indispensable member of the international bar scene since 1975. Taste Alessandro's iconic martinis, served on a bar cart - a hallmark of his hospitality.
PROGRAM:
5 PM – Doors Open
8 PM – Guest Bartender Alessandro Palazzi
9 PM – Foxy Cleopatra & The Big Lovers
Spaces are limited, book your table via Opentable.
𝐀𝐛𝐨𝐮𝐭 𝐀𝐥𝐞𝐬𝐬𝐚𝐧𝐝𝐫𝐨 𝐏𝐚𝐥𝐚𝐳𝐳𝐢
"I was born a bartender, and I will die a bartender..." – says Alessandro, who has been working as a mixologist for 47 years. His career spanning through 4 decades took him to Italy, Paris and London and taught him the three skills all bartenders should have: diplomacy, acrobatics and charisma. The highly esteemed mixologist was named Industry Legend at Imbibe's 2018 Personality of the Year awards.
https://fb.me/e/4S4CMGCMG