Pink October
October 01, 2021 12:00 AM until November 01, 2021 12:00 AM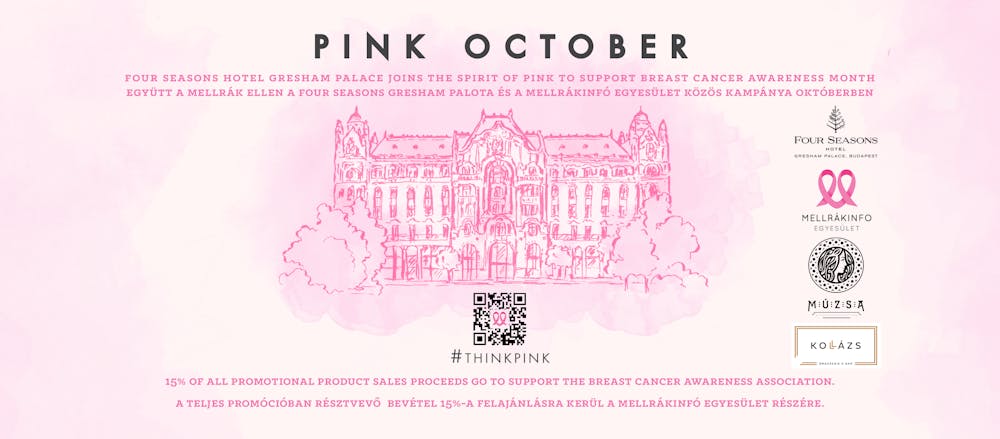 In honour of Breast Cancer Awareness Month, also known as Pink October, Four Seasons Hotel Gresham Palace presents a series of pink-themed promotions with the goal of raising awareness as well as funds for the Breast Cancer Awareness Association (Mellrákinfó Egyesület).
Come in October to Múzsa and show your support for this special cause – 15 % of all promotional sales proceeds will be donated to Mellrákinfo Egyesület to raise awareness.
#𝐷𝑟𝑖𝑛𝑘𝑃𝑖𝑛𝑘
"𝐏𝐢𝐧𝐤 𝐃𝐫𝐢𝐧𝐤𝐬 𝐚𝐭 𝐌𝐮́𝐳𝐬𝐚 𝐁𝐚𝐫" – Enjoy our newly crafted concoctions by the Múzsa team, set out to motivate and uplift guests with their bespoke list of "I'M" cocktail offering. Guests can feel Beautiful, Invincible, or Brave depending on their choice of cocktail.
#𝐸𝑎𝑡𝑃𝑖𝑛𝑘
"𝐏𝐢𝐧𝐤 𝐇𝐞𝐫𝐞𝐧𝐝 𝐀𝐟𝐭𝐞𝐫𝐧𝐨𝐨𝐧 𝐓𝐞𝐚" – Catch up with friends and family over a sumptuous afternoon tea at Múzsa, the Hotel's stunning new art nouveau craft cocktail bar and lounge. Accompanied by live music on stage, this experience is fit for royalty.
#𝑇ℎ𝑖𝑛𝑘𝑃𝑖𝑛𝑘
"𝐏𝐫𝐞𝐭𝐭𝐲 𝐈𝐧 𝐏𝐢𝐧𝐤" 𝐭𝐡𝐞𝐦𝐞𝐝 𝐬𝐨𝐢𝐫𝐞́𝐞 | 𝐅𝐫𝐢𝐝𝐚𝐲, 𝐎𝐜𝐭𝐨𝐛𝐞𝐫 𝟐𝟐𝐧𝐝 - Celebrate breast cancer awareness with a pink-themed night at Budapest's most inspired bar. With a special guest performance by 𝐸𝑙𝑖𝑧𝑎 𝐵𝑙𝑖𝑠𝑠 presenting The Violove show starting at 8 PM, featuring dazzling combinations of classical and pop hits. From 10 PM, 𝑂𝑛 𝑇𝑖𝑚𝑒 𝐵𝑎𝑛𝑑 will take over the stage - it will be a night to remember.
https://www.facebook.com/events/926545804607335