Múzsa Turns Two - Birthday Celebration
October 01, 2022 07:30 PM until October 02, 2022 01:00 AM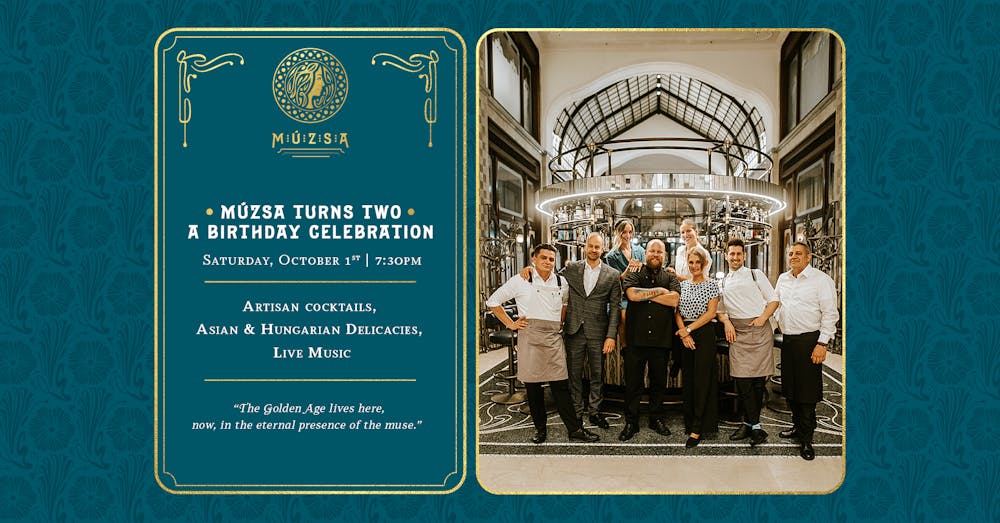 Join us as we celebrate the second birthday of our beloved Múzsa. A soirée focusing on cocktails, Asian-Hungarian delicacies and live performances that will transport you to a timeless golden age.
To mark the special occasion, after months of hard work and dedication, Head Bartender Ádám Rédli and his team will give you a sneak peek at one of our new cocktails, while Executive Chef Árpád Győrffy will introduce a few of our new dishes that continue to celebrate Asian and Hungarian cuisines.
Múzsa invites you for a visionary night, where magic becomes reality.
𝐌𝐔𝐙𝐒𝐀 𝐁𝐈𝐑𝐓𝐇𝐃𝐀𝐘 𝐃𝐈𝐍𝐍𝐄𝐑 𝐌𝐄𝐍𝐔
Surprise Welcome Cocktail
*
Salmon Tataki
𝑆𝑒𝑎𝑤𝑒𝑒𝑑, 𝐿𝑖𝑚𝑒 𝑃𝑜𝑛𝑧𝑢
*
Seared Scallop
𝐷𝑎𝑖𝑘𝑜𝑛, 𝐺𝑖𝑛𝑔𝑒𝑟, 𝑆ℎ𝑖𝑠𝑜
*
Seared Foie Gras
𝑊ℎ𝑖𝑡𝑒 𝑀𝑖𝑠𝑜, 𝑇𝑟𝑢𝑓𝑓𝑙𝑒
*
Wagyu Beef Gyoza
𝑆𝑝𝑖𝑐𝑦 𝑃𝑜𝑛𝑧𝑢 𝑆𝑎𝑢𝑐𝑒
*
Miso Hoikoro
𝑆𝑡𝑖𝑟 𝐹𝑟𝑖𝑒𝑑 𝑃𝑜𝑟𝑘 𝑎𝑛𝑑 𝐶𝑎𝑏𝑏𝑎𝑔𝑒
*
Surprise Dessert
𝐌𝐞𝐧𝐮 𝐏𝐫𝐢𝐜𝐞: 𝟐𝟗.𝟗𝟎𝟎 𝐇𝐔𝐅/𝐏𝐞𝐫𝐬𝐨𝐧
🎹 𝐏𝐑𝐎𝐆𝐑𝐀𝐌 🎹
7:30 PM – 8:30 PM – Rewod 🎻+ Artemisz 🩰
9:00 PM – 10:00 PM – Nika 🎤
10:15 PM – 00:45 AM – Myra Monoka 🎧

Guests who wish to attend the event without enjoying the dinner menu will be seated under the Chandelier or at the bar counter. 𝙍𝙚𝙨𝙚𝙧𝙫𝙖𝙩𝙞𝙤𝙣𝙨 𝙖𝙧𝙚 𝙧𝙚𝙦𝙪𝙞𝙧𝙚𝙙 at muzsabar.budapest@fourseasons.com or by calling +36 1 268 5120.
https://www.facebook.com/events/453409320155189