Múzsa On The Road #3 - Isa Gastrobar
June 28, 2022 07:00 PM until June 28, 2022 11:30 PM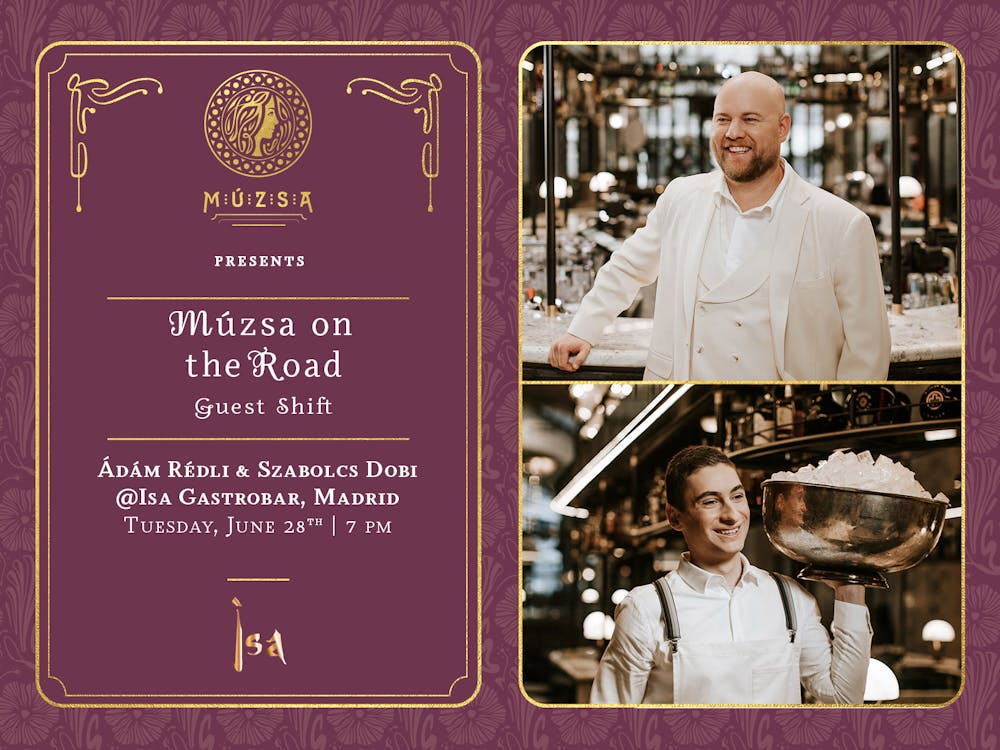 𝗠𝘂́𝘇𝘀𝗮
𝗽𝗿𝗲𝘀𝗲𝗻𝘁𝘀
𝗠𝘂́𝘇𝘀𝗮 𝗢𝗻 t𝗵𝗲 𝗥𝗼𝗮𝗱

Buenos días, señoras y señores!

Our "Múzsa on the Road" event series continues, the next stop is none other than Madrid, the city of joy and life! Múzsa's head bartender Ádám Rédli, accompanied by fellow bartender, Szabolcs Dobi are delivering Múzsa cocktails to the Spanish capital.
Ádám and Szabolcs are invited for a guest shift at our sister bar, Isa Gastrobar located in Four Seasons Hotel Madrid.
Join us on Tuesday, June 28th! Ádám and Szabolcs will be behind the bar for a fiesta from 7:00 pm. Reservations are required. Please contact Isa Gastrobar via phone at +34 913 30 62 20.
𝐀𝐛𝐨𝐮𝐭 𝐈𝐒𝐀
Awarded as Best New International Cocktail Bar Honoree in Europe by Tales of the Cocktail and Best Hotel Cocktail Bar by World Class Spain, Isa brings a new concept of cocktail bar to the heart of Madrid: sophisticated, eclectic and with a friendly and informal atmosphere.
Isa proposes Asian and Mediterranean inspired dining paired with signature cocktails and exclusive DJ sets, offering the most vibrant entertainment in the city and turning this historical space into a modern and unique place-to-be.
𝐀𝐛𝐨𝐮𝐭 𝐀́𝐝𝐚́𝐦 𝐑𝐞́𝐝𝐥𝐢
Positioning itself to be recognized as one of the best bars in the world, MÚZSA's cocktail menu was carefully crafted by Head Bartender Ádám Rédli, who brings World's Best Bar expertise to MÚZSA. With experiences from London's top tier bars such as Café Royal, The Mayfair and Langham Hotel's Artesian, which was the legendary four-time winner of 50 Best Bars, Ádám is a real globetrotter on the international bar scene. Mixology being his true passion, Ádám believes that the most important qualities are precision, consistency and uniqueness.
𝐀𝐛𝐨𝐮𝐭 𝐒𝐳𝐚𝐛𝐨𝐥𝐜𝐬 𝐃𝐨𝐛𝐢
Having started as a barback, owing to Szabolcs' passion and perseverence, he recently became the junior bartender of the team. His motivation to excel in service and unique humour makes him a heart-warming bartender.
https://fb.me/e/3GVPcfnoc