Muse of the Month #2
November 26, 2021 09:00 PM until November 27, 2021 01:00 AM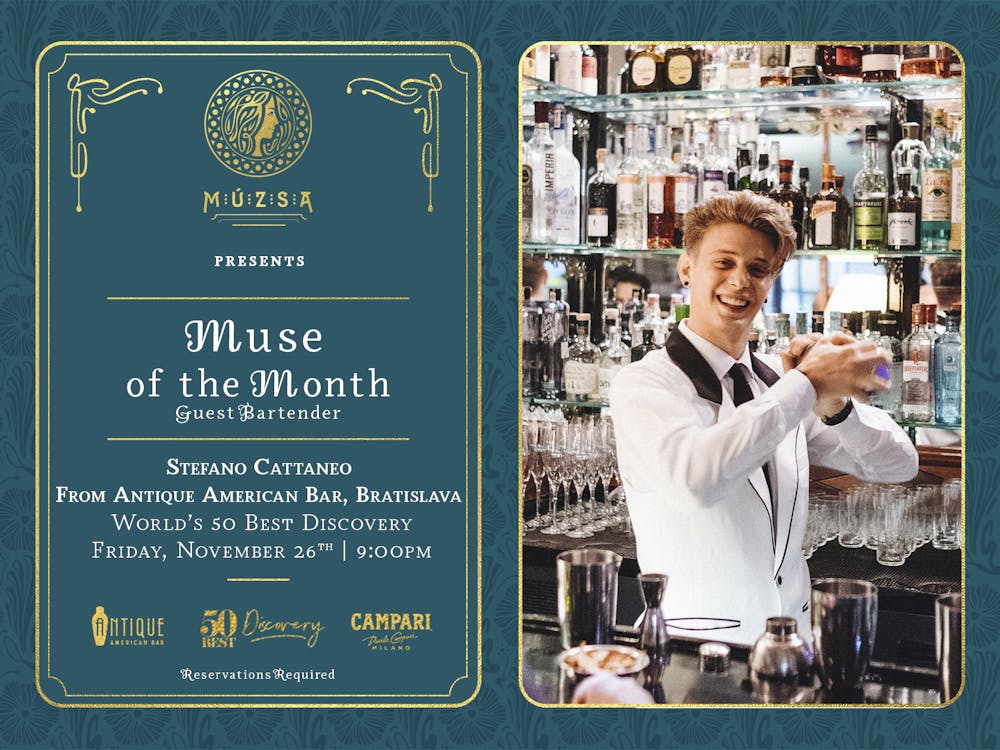 𝗠𝘂́𝘇𝘀𝗮
𝗽𝗿𝗲𝘀𝗲𝗻𝘁𝘀
𝗠𝗨𝗦𝗘 𝗼𝗳 𝘁𝗵𝗲 𝗠𝗼𝗻𝘁𝗵
"The Golden Age lives here, now, in the eternal presence of the muse."
Are you intrigued by Iconic Prohibition-Era Cocktails? This month, Múzsa is presenting the second night of its MUSE of the Month event series focusing on glamorous and classic cocktails from the 1920s.
Let us invite you on a historical cocktail journey with Stefano Cattaneo, Bar Manager of one of the World's 50 Best Bars Discovery 2021 winners, the Antique American Bar in Bratislava. Sample cocktails with ingredients dating back as far as the 1920s while you enjoy a live performance by the ADAPT band featuring a unique fusion of soul, jazz and hip hop.
PROGRAM:
5pm – Doors Open
9 pm - Guest Bartender Stefano Cattaneo
9pm – 12pm ADAPT Band
Spaces are limited, 𝙗𝙤𝙤𝙠 𝙮𝙤𝙪𝙧 𝙩𝙖𝙗𝙡𝙚 via OpenTable:
𝐀𝐛𝐨𝐮𝐭 𝐒𝐭𝐞𝐟𝐚𝐧𝐨 𝐂𝐚𝐭𝐭𝐚𝐧𝐞𝐨
Stefano Cattaneo, named 3rd Best Italian Bartender in 2018 and Campari Brand Ambassador in 2019, has filled many important positions in various bars & restaurants, including a 2-Michelin star restaurant. Currently, he is the Bar Manager in the prestigious Antique American Bar in Bratislava.
𝐀𝐛𝐨𝐮𝐭 𝐀𝐧𝐭𝐢𝐪𝐮𝐞 𝐀𝐦𝐞𝐫𝐢𝐜𝐚𝐧 𝐁𝐚𝐫
Some things never go out of style – classy yet comfortable bars, impeccable service, classic cocktails, chandeliers… Antique American Bar has it all. This diminutive cocktail spot feels like it's been welcoming guests for decades, not just a few years. Erik Lorincz, formerly of London's American Bar at The Savoy and currently heading up Kwant, is one of the team behind Antique, which says a lot about its cocktails, its standards of service, and perhaps the bar team's white jackets too. Lorincz created the cocktail list, which consists of nothing but classics, including a vintage classics list made with ingredients dating back as far as the 1920s.
https://www.facebook.com/events/315554080136553