London Cocktail Experience
March 22, 2023 08:30 PM until March 25, 2023 01:00 AM
𝑀𝑢́𝑧𝑠𝑎 𝑝𝑟𝑒𝑠𝑒𝑛𝑡𝑠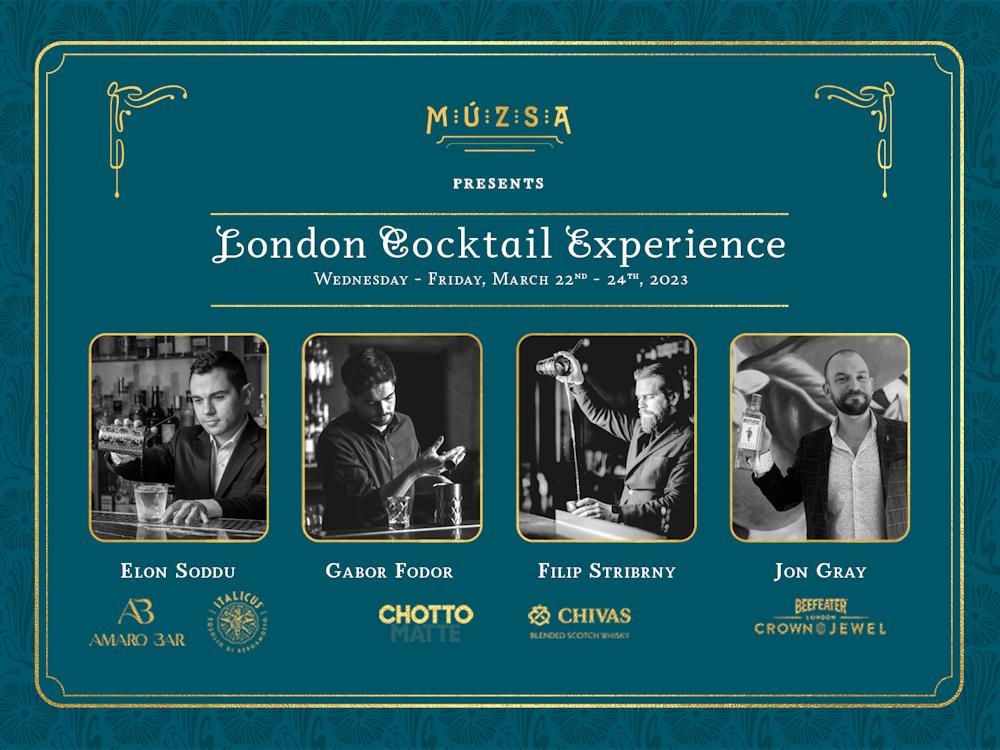 Dive cocktail first into our brand-new event series where you will be taken on a cocktail journey with world-renowned figures, first from the British bar industry. Ádám Rédli, Head Bartender and his team together with our special guests are bringing a touch of London to MÚZSA bar for three consecutive nights.
This event is organized in collaboration with Pernod Ricard.
𝗣𝗥𝗢𝗚𝗥𝗔𝗠

𝗪𝗲𝗱𝗻𝗲𝘀𝗱𝗮𝘆, 𝗠𝗮𝗿𝗰𝗵 𝟮𝟮𝗻𝗱 𝟴:𝟯𝟬 𝗣𝗠 | 𝗘𝗹𝗼𝗻 𝗦𝗼𝗱𝗱𝘂
𝑂𝑤𝑛𝑒𝑟 & 𝑀𝑎𝑛𝑎𝑔𝑒𝑟 𝑜𝑓 𝐴𝑚𝑎𝑟𝑜 𝐵𝑎𝑟
The event is sponsored by Italicus.
Elon Soddu is the founder and manager of Amaro Bar in Kensington, which offers classic cocktails with a contemporary twist to create a creative and stylish drinking experience. With over 13 years of experience in hospitality, Elon has worked in London's top five-star hotels and was head mixologist of The Savoy. He's now joining us to offer an evening of fine drinks with a touch of Italian flair.
♫ Live Music: Várhegyi Lucas Palmira+Felleg Dominik
𝗧𝗵𝘂𝗿𝘀𝗱𝗮𝘆, 𝗠𝗮𝗿𝗰𝗵 𝟮𝟯𝗿𝗱 𝟴:𝟯𝟬 𝗣𝗠 | 𝗚𝗮𝗯𝗼𝗿 𝗙𝗼𝗱𝗼𝗿 𝗮𝗻𝗱 𝗙𝗶𝗹𝗶𝗽 𝗦𝘁𝗿𝗶𝗯𝗿𝗻𝘆
𝐺𝑙𝑜𝑏𝑎𝑙 𝐵𝑎𝑟 𝑀𝑎𝑛𝑎𝑔𝑒𝑟 𝑓𝑜𝑟 𝐶ℎ𝑜𝑡𝑡𝑜 𝑀𝑎𝑡𝑡𝑒 𝑎𝑛𝑑 𝐵𝑎𝑟 𝑀𝑎𝑛𝑎𝑔𝑒𝑟 𝑜𝑓 𝐶ℎ𝑜𝑡𝑡𝑜 𝑀𝑎𝑡𝑡𝑒 𝑆𝑜ℎ𝑜
The event is sponsored by Chivas.
Just like Múzsa, Chotto Matte Soho's Bar offers a multi-sensory experience with an expertly curated drink collection that pushes the boundaries by mixing premium spirits with uncommonly found ingredients in cocktails.
Gabor Fodor is the Global Bar Manager of Chotto Matte. He brings ten years of experience in managing luxury beverage departments in restaurants, bars and hotels, including the Artesian, elected World's Best Bar. He will be joined by Filip Stribrny, Bar Manager of Chotto Matte Soho and close collaborator to wow guests with an exciting evening of Chivas-based cocktails.
♫ Live Music: Lush Tones
𝗙𝗿𝗶𝗱𝗮𝘆, 𝗠𝗮𝗿𝗰𝗵 𝟮𝟰𝘁𝗵 𝟴:𝟯𝟬 𝗣𝗠 | 𝗝𝗼𝗻 𝗚𝗿𝗮𝘆
𝐺𝑙𝑜𝑏𝑎𝑙 𝐵𝑟𝑎𝑛𝑑 𝐴𝑚𝑏𝑎𝑠𝑠𝑎𝑑𝑜𝑟, 𝐵𝑒𝑒𝑓𝑒𝑎𝑡𝑒𝑟
𝑇ℎ𝑒 𝑂𝑓𝑓𝑖𝑐𝑖𝑎𝑙 𝑙𝑎𝑢𝑛𝑐ℎ 𝑒𝑣𝑒𝑛𝑡 𝑜𝑓 𝐵𝑒𝑒𝑓𝑒𝑎𝑡𝑒𝑟 𝐶𝑟𝑜𝑤𝑛 𝐽𝑒𝑤𝑒𝑙
The event is sponsored by Beefeater.
The third and last night of the London Cocktail Experience will mark the official launch of Beefeater Crown Jewel in Hungary. The Múzsa team will be joined behind the bars by Jon Gray, Global Brand Ambassador of Beefeater.
Treasured by bartenders worldwide, Beefeater Crown Jewel is an elevated version of the brand's signature house style. Beefeater is the only international gin that is still produced in London and has been recognized as one of the most awarded in the world. Beefeater's recipe combines a blend of carefully selected botanicals from around the world to create its distinct taste and aroma.
Jon is preparing a special cocktail list for our guests that is inspired by different areas of London and you might also connect with him throughout the night.
♫ Live Music: Wonder Women